Ice cube trays used to be a staple in just about every freezer. But, nowadays most people prefer to used bags of ice or automatic ice makers for their convenience. It would seem as though the ice cube tray should become obsolete, right? Well, believe it or not, trays are good for more than just making ice! So, instead of throwing that old fashioned thing away, you might want to go out and pick up some more! You had no idea you could do this with an ice cube tray!
1. Make your own custom popsicles.
Store bought popsicles are full of sugar and artificial ingredients. Instead, pour your favorite fruit juice into an ice cube tray, add fruit and sticks, and freeze! Use a traditional tray or one designed for homemade ice pops like this one from Casa!
2. Easy to portion Jell-O shots
Jell-O shots are always a favorite party treat! Instead of hassling with paper cups, pour your mix into an ice cube tray. Try a soft, silicone tray for shots that will easily release once hardened.
3. Make coffee cubes for your iced coffee
Next time you have a little coffee at the bottom of the pot, don't pour it out! Put it in an ice cube tray, like this one from Convenient Gadgets & Gifts, and add the cubes to iced coffee or milk.
4. Mold your own fun-shaped chocolate
Everyone loves getting chocolates as a gift! For an extra special touch, make your own fun shaped chocolates at home and give them to friends and family around the holidays! Check out this recipe from Instructables!
5. Make your own bathroom soap shapes
Add a personal touch to your bathroom with homemade soaps. You can customize them with your favorite colors, scents, and shapes. Try a tray like this one from Amazon.
6. Make fun juice straws
It's no secret that kids love drinking out of straws. Make the most delicious straws ever with this tray from Amazon. Fill the mold with juice, soda, or flavored water!
7. Make Jello shapes for a kid's party
Jello Jigglers are always a favorite among kids. If you're throwing a themed birthday party, make a dessert that will really fit the bill! Silicon molds like this Hello Kitty one and this Elmo one are simple to use and will release your molds easily and seamlessly.
8. Freeze wine cubes that won't dilute your drink
What do you do when you're ready for a glass of Chardonnay, but the bottle isn't chilled? Putting ice cubes in your glass will dilute the wine and ruin the flavor. Instead, keep frozen wine cubes freezer and say goodbye to watery drinks!
9. Add fruit or herbs to make beautiful garnishes for your cocktail
Impress your friends and family by making beautiful cocktails with ice cube garnishes. Just add herbs, fruits, or edible flowers to an ice cube tray and make your beverages look as good as they taste!
10. Add an interesting twist to any celebration
Here's a really sweet idea for a romantic guy! Surprise the love of your life with a romantic glass of champagne garnished with diamond ring shaped ice cubes. This will be a story she'll never get tired of telling! Check out this mold on Find Gift!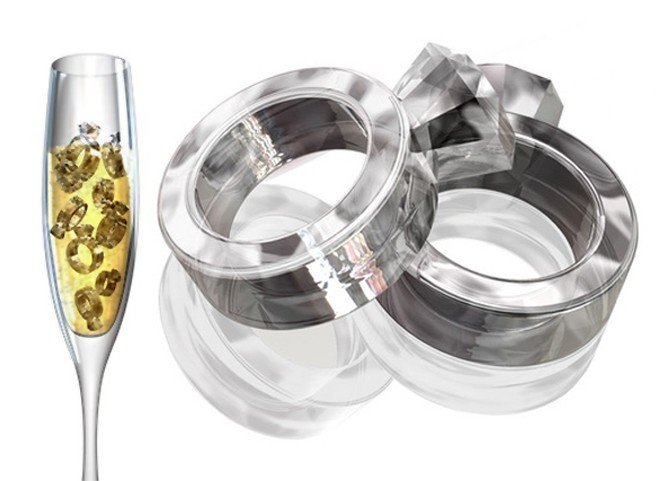 Featured images:
This is a guest post by Morgan Neal, Awesome Expert for Oh My That's Awesome. She specializes in finding the most crazy, unique, out-ther products the internet has to offer! Check out the awesomeness at OhMyThatsAwesome.com!
Awesome Expert
OhMyThatsAwesome.com